Virtual Author Talk
with Ann B. Ross
Saturday, April 10 at 2:00 P.M.
Join us in a free Q&A session
via Zoom with
Ann B. Ross
Register now at
bit.ly/RPLAuthorTalkApril2021
South Main Book Company     Rowan Public Library
Salisbury, NC
W
elcome!
I am delighted to welcome you to the Miss Julia website and hope that you will enjoy your visit. As I have had more requests for personal appearances in various towns and cities across the country than I could possibly accept--unless I stopped writing and did nothing but travel--this is a way for me to be in touch with you. Due to the pandemic, publishers and booksellers decided not to sponsor tours for new releases either last year or this year.  I miss having the opportunity to meet new readers, catch up with regular readers, and to just get out of the house for awhile! Inside, you will find brief outlines of the Miss Julia novels, a tour schedule, a FAQ page that answers many of your questions, and a few suggestions on writing. In addition, you will find summaries of the books in print and previews of the future books in the series.
There are also a few hidden pages that you can reach with a click of the mouse: Be sure to check out the pictures sent by readers by clicking MISS JULIA CONTEST WINNERS' PICTURES on this page, as well as the MISS JULIA CHRISTMAS MARASCHINO CHERRY PIE recipe, also on this page. And on the NOW AND FUTURE BOOKS page, a click on the image of each book in the spread at the bottom will give you a brief description of the book and some ordering information. And don't forget to click on the blue box on this page to add your email address to the mailing list.
Let me now thank each of you who have read and enjoyed the Miss Julia books. I hope that they have made you laugh or, at least, smile a little, and that you will continue to receive pleasure from all the books yet to come.
NEW! Find Miss Julia on Facebook:


Miss Julia's Christmas Maraschino Cherry Pie
Miss Julia Contest Winners' Pictures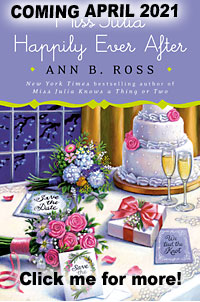 Coming April 6, Pre-Order NOW!
Click here for more about "Miss Julia Happily Ever After"
Also coming soon:
Miss Julia Knows a Thing or Two, in paperback April 13, 2021!

TO THE RESCUE
"Delightful"
—Publishers Weekly
This latest in the Miss Julia series has a bit more punch . . . There's plenty here to satisfy fans.
—Booklist
ROCKS THE CRADLE
Steel magnolias kick butt.
—Kirkus
RENEWS HER VOWS
Ann B. Ross develops characters so expertly, through quirks, names and mannerisms, that they easily feel familiar as the reader is gently immersed into the world Miss Ross has created in the Miss Julia stories. Whether this is your first or 11th experience with this series,
Miss Julia Renews Her Vows
is a delightful read.
—Winston-Salem Journal
Fast-paced, hilarious and thoroughly fun.
—Salisbury Post
DELIVERS THE GOODS
A lighthearted page-turner to slip into the beach bag or to carry with us to a lawn chair in the garden when the sun is buzzing away high in the sky. . . . Just grab this and devour it.
—Charleston City Paper
STANDS HER GROUND
Ann B. Ross and Miss Julia are fast becoming Southern classics.
—Winston-Salem Journal
MEETS HER MATCH
It is impossible not to like irrepressible, perfectly proper Miss Julia.
—The Roanoke Times
PAINTS THE TOWN
Miss Julia is back, and I, for one, am one happy camper.
—J.A. Jance, New York Times Bestselling Author.

The memorably droll Ross has a gift for elevating such everyday matters as marital strife and the hazards of middle age to high comedy, while painting her beautifully drawn characters with wit and sympathy.
—Publishers Weekly
SPEAKS HER MIND
A charming comedy of manners.
—The Charlotte Observer
A witty tale... replete with charm...it is impossible not to like this book.

—Ft. Worth Morning Star-Telegram
HITS THE ROAD
Fourth in a popular series about a Southern widow with perfect manners and a taste for trouble, Ross's latest will bring a chorus of "Thank you, Lord"s from faithful readers.
—Publishers Weekly